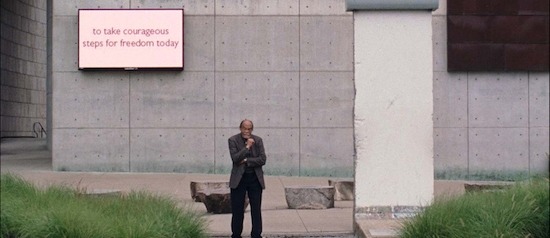 SCREENING & LIVE EVENT
The American Sector
Part of Curators' Choice 2021
Sunday, December 19, 2021, 4:00 p.m.
Museum of the Moving Image - Bartos Screening Room
With Pacho Velez and Courtney Stephens in person
Dir. Courtney Stephens, Pacho Velez. United States. 2020, 69 mins. After it was dismantled in 1989, pieces of the Berlin Wall were scattered around the world. Many sections were relocated to the United States. In this nimble nonfiction road movie, directors Courtney Stephens (Terra Femme) and Pacho Velez (Manakamana) travel to 75 locations throughout mainland America, from New York to Las Vegas, hotels to private homes, and corporate headquarters to metro stations. After establishing a formalist, objective vocabulary, the film gradually and subtly expands, capturing casual interactions, voices drifting from beyond the frame, glimpses of archival footage, all conveying a creeping, ominous sense of psychic and historical dislocation. A Grasshopper Film release.
Tickets: $15 / $11 senior and students / $9 youth (ages 3–17) / discounted for MoMI members ($7–$11). Order tickets. Please pick up tickets at the Museum's admissions desk upon arrival. All seating is general admission. Review safety protocols before your visit.