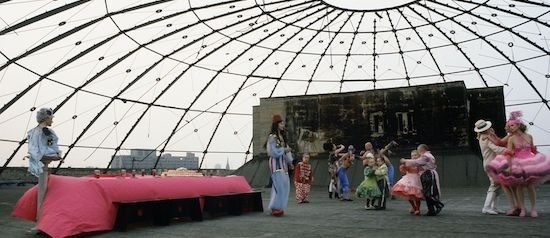 Screening
Freak Orlando
Dir. Ulrike Ottinger. 1981, 126 mins. 35mm courtesy of German Film Office. With Delphine Seyrig, Magdalena Montezuma. In German with English subtitles. Among the most baroquely ambitious and uncompromising directors of the New German Cinema and a cult icon of queer filmmaking, Ulrike Ottinger made fearlessly irreverent films that playfully toyed with religion, literature, genre, and the sexually normative modern world. Using Virginia Woolf's gender- and time-bending novel Orlando as a loose inspiration, her Freak Orlando is a work of buoyant, comic madness, a pageant of punk-operatic excess that feels like a mix of Jodorowsky, Buñuel, and Monty Python, and features the unforgettable Magdalena Montezuma as an inscrutable, magnetically crude version of Woolf's gender nonconforming hero.
Tickets: $15 / $11 senior and students / $9 youth (ages 3–17) / discounted for MoMI members ($7–$11). Order tickets.
Please pick up tickets at the Museum's admissions desk upon arrival. All seating is general admission. Review safety protocols before your visit.
See It Big: Extravaganzas! is presented with support from MUBI GO
.