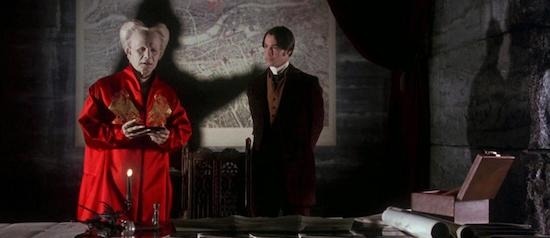 Screening
Bram Stoker's Dracula
Dir. Francis Ford Coppola. 1992, 128 mins. 35mm. With Gary Oldman, Winona Ryder, Anthony Hopkins, Sadie Frost, Keanu Reeves, Tom Waits. In adapting the original Victorian-era Gothic vampire novel, Coppola pulled out all the stops and then some. For his rendition of the Dracula story, Coppola produced a quirky, idiosyncratic, and over-the-top cascade of lush and violent horror imagery that was, miraculously, a box-office smash. Working with brilliantly self-imposed limitations (all practical effects that would have been possible in the silent era); cramming every frame with monumental sets and matte paintings; and directing Oldman in one of his finest performances as the devilishly romantic Transylvanian count, Coppola created a film so sensational that even the notoriously horror-averse Academy Awards honored it three times, for makeup, sound effects, and Eiko Ishioka's dazzling costumes.

Tickets: $15 / $11 senior and students / $9 youth (ages 3–17) / discounted for MoMI members ($7–$11). Order tickets.
Please pick up tickets at the Museum's admissions desk upon arrival. All seating is general admission. Review safety protocols before your visit.
See It Big: Extravaganzas! is presented with support from MUBI GO
.