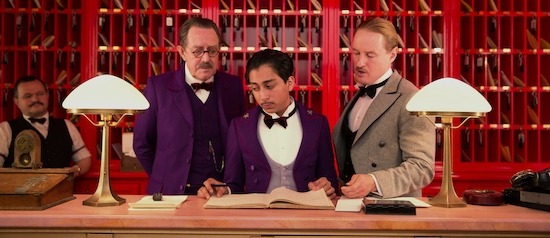 Screening
The Grand Budapest Hotel + The Impossible Voyage
Dir. Wes Anderson. 2014, 100 mins. DCP. With Ralph Fiennes, Tony Revolori, F. Murray Abraham, Mathieu Amalric, Adrien Brody, Willem Dafoe, Jeff Goldblum, Harvey Keitel, Jude Law, Bill Murray, Edward Norton, Saoirse Ronan, Jason Schwartzman, Léa Seydoux, Tilda Swinton, Tom Wilkinson, Owen Wilson. Inspired by the Old World airs and manners of Ernst Lubitsch comedies and the pre-fascist Europe evoked by exiled Viennese author Stefan Zweig, Anderson's most elaborate film (at least until this year's The French Dispatch) conjures a dollhouse vision of a bygone world as delectable as a Viennese café confection. Fiennes is the redoubtable concierge of a splendid hilltop hotel in the fictional land of Zubrowka; Revolori is Zero, the new lobby boy, an immigrant from the Middle East who comes to love his mentor and whose older self (Abraham) will honor and safeguard his memory. Comprised of endless nesting framing devices, Adam Stockhausen's matte painting and miniature-heavy production design, genre pastiche set-pieces, and the filmmaker's signature tableau compositional style, The Grand Budapest Hotel is maximalist cinema worthy of George Méliès—whose 1904 masterpiece The Impossible Voyage (20 mins.) affectionately precedes it.
Tickets: $15 / $11 senior and students / $9 youth (ages 3–17) / discounted for MoMI members ($7–$11). Order tickets.
Please pick up tickets at the Museum's admissions desk upon arrival. All seating is general admission. Review safety protocols before your visit.
See It Big: Extravaganzas! is presented with support from MUBI GO
.