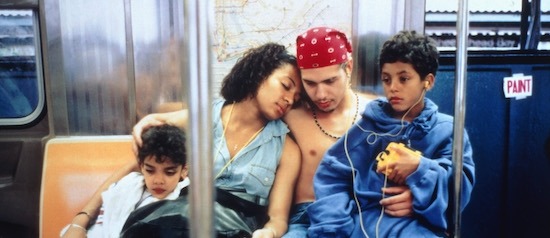 Screening & Live Event
I Like It Like That
With Darnell Martin and Luna Lauren Vélez in person
Dir. Darnell Martin. 1994, 104 mins. 35mm. With Luna Lauren Vélez, Rita Moreno, Lisa Vidal, Jon Seda, Jesse Borrego, Griffin Dunne, Fat Joe. Pulsing with the rhythm of the Bronx, I Like It Like That made Darnell Martin the first African American woman to direct a studio-produced film. This remarkable romantic comedy mixes tragedy with slick humor, following Jamaican–Puerto Rican wife and mother Lisette Linares (Vélez) who must raise the funds to bail out her husband, Chino (Seda), after he foolishly loots a stereo during a blackout. As Chino's mother (Moreno) schemes a way to bail out her son herself, Lisette finds work as a model then as an assistant. With newfound independence and after discovering Chino's infidelity, Lisette questions their flawed marriage. Selection of the 1994 Cannes Film Festival. View trailer.

The screening will be followed by a conversation celebrating the diversity of representation in Martin's film. Featuring Martin and actress Luna Lauren Vélez, this discussion tackles how the film and television industries in the United States exoticize and misrepresent Latina/x women and the lack of Afro-Latina/xs characters. They will discuss type-casting actors and stereotypical characters, as well as commemorate the groundbreaking storytelling in their film and its portrayal of Puerto Rican women.

Tickets: $15 / $11 senior and students / $9 youth (ages 3–17) / discounted for MoMI members ($7–$11). Order tickets. Please pick up tickets at the Museum's admissions desk upon arrival. All seating is general admission. Review safety protocols before your visit.