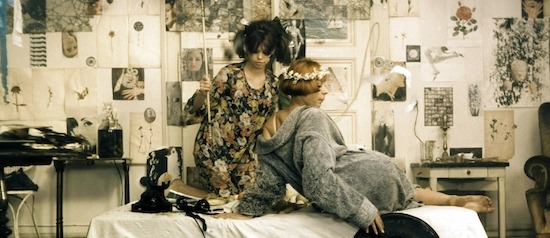 Screening
Daisies
Dir. Vera Chytilová. 1966, 76 mins. 35mm. With Jitka Cerhová and Ivana Karbanová. One of the most beloved films of the radical sixties, Czech New Wave legend Vera Chytilová's sublimely anything-goes explosion of cinema has been called many things: a great feminist work, a classic of anarchist comedy, a key experimental film, and, by the censorious Czech government at the time, a public menace due to its "promoting of food wastage." Any way you look at it—and there's a lot to look at—this fanciful, narrative-decimating portrait of two young women who refuse to play by the rules of patriarchal society and begin to tear it all down is a singular vision that has to be experienced communally in a theater.
Tickets: $15 / $11 senior and students / $9 youth (ages 3–17) / discounted for MoMI members ($7–$11). Order tickets.
Please pick up tickets at the Museum's admissions desk upon arrival. All seating is general admission. Review safety protocols before your visit.
See It Big: Extravaganzas! is presented with support from MUBI GO
.