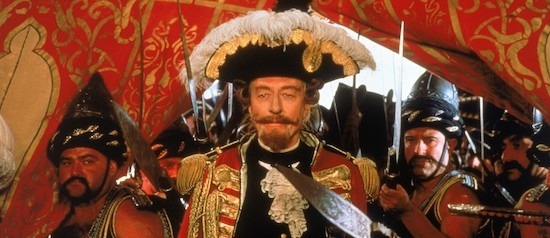 Screening
The Adventures of Baron Munchausen
Dir. Terry Gilliam. 1989, 126 mins. With John Neville, Sarah Polley, Eric Idle, Jack Purvis, Valentina Cortese, Uma Thurman, Oliver Reed. Gilliam's follow-up to the critical triumph of Brazil is a work of nonstop visual invention, a dazzling fantasy based on the mythical 18th-century figure of a German nobleman who fought against the Ottoman army. Triumphant, Oscar-nominated visual effects, sets, and costumes take center stage, yet just as crucial are the delightful performances by Neville as the tall-tale-telling Baron and young Polley as the stowaway who accompanies him to the moon, into the belly of a whale, and to the center of a volcano. Rocket-paced and engaging from first frame to last, Gilliam's family-friendly fantasy is a wonder of practical design indebted to the work of early cinema wizard George Méliès.
Tickets: $15 / $11 senior and students / $9 youth (ages 3–17) / discounted for MoMI members ($7–$11). Order tickets.
Please pick up tickets at the Museum's admissions desk upon arrival. All seating is general admission. Review safety protocols before your visit.
See It Big: Extravaganzas! is presented with support from MUBI GO.