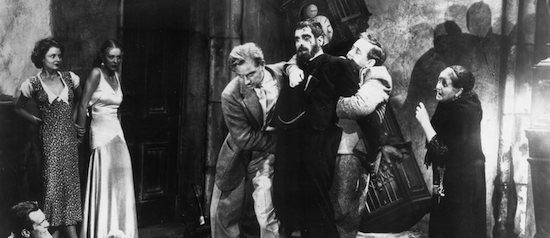 Screening
The Old Dark House
Dir. James Whale. 1932, 72 mins. DCP. With Boris Karloff, Gloria Stuart, Melvyn Douglas, Charles Laughton, Ernest Thesiger, Eva Moore, Raymond Massey. Seeking refuge from a storm, three travelers find themselves forced to spend a grim night within the strange home of the very strange Femm Family. For years overlooked, The Old Dark House has in recent years amassed a strong cult reputation for its unquestionable influence on decades of horror films and its significant streak of black comedy. This spooky and quirky film is also another landmark in the queer horror subgenre from director James Whale. View trailer.
Tickets: $15 / $11 seniors & students / $9 youth (ages 3–17) / Free for MoMI members (Senior/Student level and above). Order online.
After your purchase, an electronic ticket will be sent via email. All seating is general admission. Please review safety protocols before your visit.