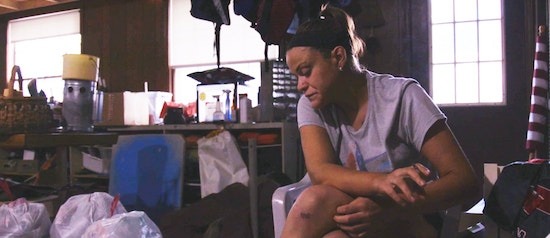 SCREENING & LIVE EVENT
North by Current
With Angelo Madsen Minax in person. Co-presented with POV and Field of Vision.
Dir. Angelo Madsen Minax. 2021, 86 mins. Filmed over several years and encompassing events and traumas stretching back decades,
North by Current
is filmmaker Angelo Madsen Minax's rawly personal and aesthetically sui generis portrait of an American family. Three years after the unexplained death of his niece, Minax returns to his hometown in Michigan, where his family still resides. His sister Jesse struggles to find stability after she and her partner David are suspected by the authorities of being responsible for her daughter Kalla's death. Meanwhile, over the course of multiple visits and video shoots, his mother gradually opens up about events and emotional fallouts long elided, including that of the filmmaker's transition. Hypnotically structured so time marches forward and backward concurrently,
North by Current
maintains both a creative dexterity—incorporating multiple voiceovers and visual textures—and fearless honesty, building to a climax that's deeply cathartic and complex. Winner of the Harrell Grand Jury Prize, 2021 Camden International Film Festival.
Tickets: $15 / $11 seniors & students / $9 youth (ages 3–17) / Free for MoMI members. Order online.
After your purchase, an electronic ticket will be sent via email. All seating is general admission. Please review safety protocols before your visit.