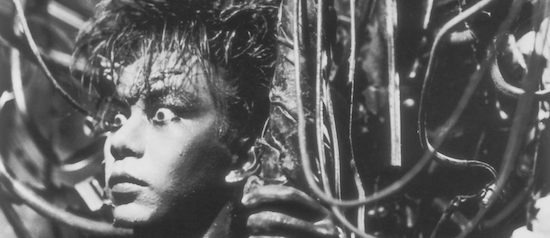 DOUBLE FEATURE
Tetsuo, the Iron Man + Bullet Ballet
Tetsuo, the Iron Man
Dir. Shinya Tsukamoto. 1989, 67 mins. DCP. With Shinya Tsukamoto, Tomorowo Taguchi, Kei Fujiwara. An average salaryman transforms into a horrifying hybrid of human and machine after an encounter with a metal fetishist—a change accompanied by nightmarish visions, metallic fantasies, and a harsh, aptly industrial music soundtrack. Shot on 16mm with a shoestring budget, Shinya Tsukamoto's breakout film is a provocative and transgressive cyberpunk masterpiece with the furious visual style and singular cinematic vision that remain part of the filmmaker's trademark.
Followed by Bullet Ballet
Dir. Shinya Tsukamoto. 1998, 87 mins. DCP. With Shinya Tsukamoto, Kirina Mano, Takahiro Murase, Hissahi Igawa. After filmmaker Goda (Tsukamoto) discovers his girlfriend has committed suicide, he becomes embroiled in gang warfare in a chilling and obsessive journey to obtain a gun and deliver the same end to himself. Though poorly received upon its release, Bullet Ballet has since gained a worldwide cult following as strong as the rest of Tsukamoto's frenzied filmography for its brooding black-and-white visuals and brutal beauty.
Tickets: $15 / $11 seniors & students / $9 youth (ages 3–17) / Free for MoMI members. Order online.
After your purchase, an electronic ticket will be sent via email. All seating is general admission. Please review safety protocols before your visit.