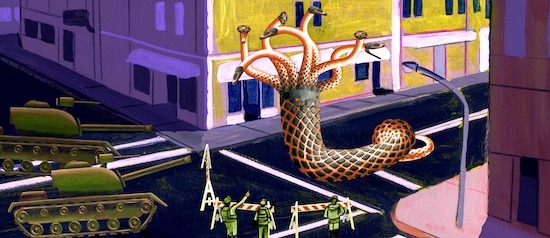 NEW RELEASE
Cryptozoo
Part of Cryptozoo
Sunday, September 19, 2021, 4:30 p.m.
Museum of the Moving Image – Bartos Screening Room
Dir. Dash Shaw. U.S. 90 mins. With Lake Bell, Michael Cera, Zoe Kazan, Louisa Krause, Angeliki Papoulia, Thomas Jay Ryan, Peter Stormare, and Grace Zabriskie. At the dawn of the 1970s, two hippies stumble across a giant gated community in the northern California forest. Inside this one-of-a-kind "cryptozoo" are myriad cryptids, rare mythical creatures who are suddenly threatened by the clueless, free-loving couple. Meanwhile veterinarian and cryptid preservationist Lauren Grey travels the world in search of the legendary baku (a docile, dream-eating creature), encountering evil poachers and coming to question her role in the whole cryptid trafficking ecosystem. Writer-director Dash Shaw and animation director Jane Samborski's second feature (following My Entire High School Sinking into the Sea) is a sui generis creation: an animated film for adults that's colored by childlike wonder, infused with the style and ethos of underground comics, psychedelia, and technicolor dreams, and voiced by a who's who of independent cinema. A Magnolia Pictures release. View trailer.
"A rapturously hallucinogenic daydream for mature audiences." —Beatrice Loayza, The New York Times

Tickets: $15 / $11 seniors & students / $9 youth (ages 3–17) / $7 for MoMI members. Order online.
After your purchase, an electronic ticket will be sent via email. All seating is general admission. Please review safety protocols before your visit.