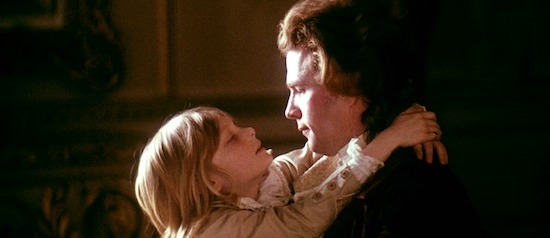 SCREENING
Barry Lyndon
Part of Complete Kubrick
Sunday, September 19, 2021, 4:00 p.m.
Museum of the Moving Image - Redstone Theater
Dir. Stanley Kubrick. 1975. 184 mins. 35mm. With Ryan O'Neal, Marisa Berenson, Patrick Magee, Hardy Krüger, Diane Koerner, Gay Hamilton, Leon Vitali. William Makepeace Thackeray's picaresque classic novel becomes, in Kubrick's hands, a historical epic that has the visual texture and scope of Hogarth and Gainsborough canvases. O'Neal is the opportunistic Irish cad who fakes his way into nobility, however briefly, while Berenson and Vitali expertly inhabit his wife and stepson—the latter who will prove to be his undoing. Both large-scale epic and intimate domestic drama, Barry Lyndon is a work of magisterial tragicomedy that was misunderstood upon its release but is now rightly considered one of the director's great masterworks. Winner of four Academy Awards, including cinematography, art direction, costume design, and adapted score.
Tickets: $15 / $11 seniors & students / $9 youth (ages 3–17) / $7 for MoMI members. Order online.
After your purchase, an electronic ticket will be sent via email. All seating is general admission. Please review safety protocols before your visit.