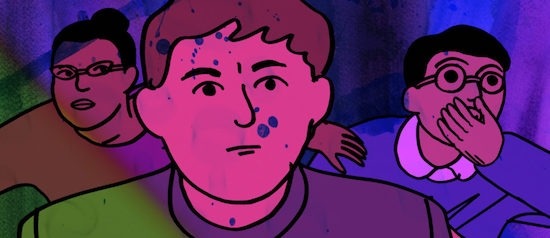 Screening
My Entire High School Sinking into the Sea
Part of World of Animation
Saturday, September 18, 2021, 2:30 p.m.
Museum of the Moving Image – Bartos Screening Room
Dir. Dash Shaw. 2017, 77 mins. DCP. With Jason Schwartzman, Reggie Watts, Maya Rudolph, Lena Dunham, Susan Sarandon. Dash Shaw's high-school-comedy-cum-disaster-movie brings together an all-star cast with a daring dreamlike mixed-media style created in collaboration with lead animator Jane Samborski. Muckraking student journalists Dash (Schwartzman) and Assaf (Watts), and their editor Verti (Rudolph) are preparing for their sophomore year at Tides High School when catastrophe strikes. Cascading mayhem (sharks eating students, a cafeteria survivors brawl, and a flaming school bus) can barely knock the well-established school hierarchy—seniors still rule—but with help from Lunch Lady Lorraine (Sarandon) and a bossy gymnast (Dunham), the friends attempt an escape. Original and hilarious, My Entire High School Sinking into the Sea offers pure visual pleasure, with gorgeously free-form watercolor blobs, painterly textures, and photorealistic abstractions held together with rich line drawings—and a touch of Charles M. Schulz. View trailer.
Rated PG-13. Recommended for ages 12+


Tickets: $15 / $11 senior and students / $9 youth (ages 3–17) / Free or discounted ($11) for MoMI members.
Order online.
After your purchase, an electronic ticket will be sent via email. All seating is general admission. Please review safety protocols before your visit.
Related: Dash Shaw and Jane Samborski's Cryptozoo is also showing at MoMI, September 17 through 25.