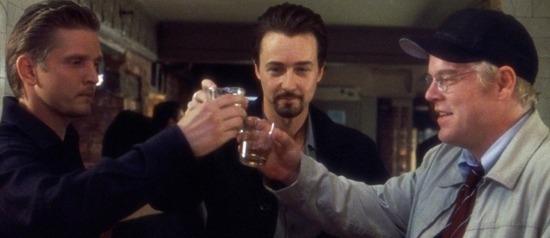 SCREENING
25th Hour
Part of I Love New York
Sunday, September 12, 2021, 4:00 p.m.
Museum of the Moving Image - Redstone Theater
Dir. Spike Lee. 2002, 135 mins. 35mm. Edward Norton, Barry Pepper, Philip Seymour Hoffman. Adapting David Benioff's novel, Spike Lee directed the first major movie to acknowledge the September 11th attacks. The filmmaker captures the somber atmosphere of life near ground zero while telling a gripping story set over the course of a tense day in which a convicted drug dealer (Edward Norton) tries to make peace with himself, his friends, and loved ones before going behind bars. Featuring outstanding music by Terence Blanchard and cinematography by Rodrigo Prieto, and brilliant supporting performances by Philip Seymour Hoffman, Barry Pepper, Rosario Dawson, and Anna Paquin, 25th Hour is a thrillingly made psychological diagnosis of both a man and a city.
Tickets: $15 / $11 seniors & students / $9 youth (ages 3–17) / $7 MoMI members. Order online. After your purchase, an electronic ticket will be sent via email. All seating is general admission. Please review safety protocols before your visit.