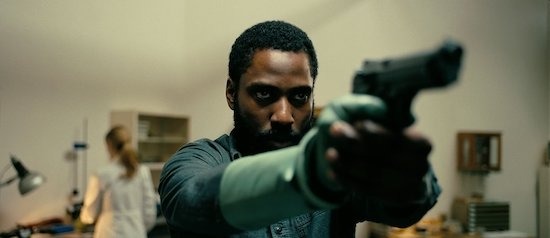 SCREENING
Tenet
Part of See It Big: 70mm!
Friday, September 10, 2021, 2:30 p.m.
Museum of the Moving Image - Redstone Theater
Dir. Christopher Nolan. 2020, 150 mins. 70mm. With John David Washington, Robert Pattinson, Elizabeth Debicki. Operating at the height of his technical powers, Christopher Nolan returned to cinemas last summer with his grandest action spectacle to date—though many were not able to see it on the big screen due to the pandemic. Echoing the muscular, stripped-down mode of Nolan's WWII drama Dunkirk, though inspired by the James Bond films of his youth, Nolan crafts an international espionage thriller whose seemingly inevitable doomsday scenario can only be averted through the manipulation of time, culminating in a set piece so technically precise yet frenetic that it demands to be seen as big and loud as possible.
Tickets: $20 public / $15 MoMI members. Order online.
After your purchase, an electronic ticket will be sent via email. All seating is general admission. Please review safety protocols before your visit.