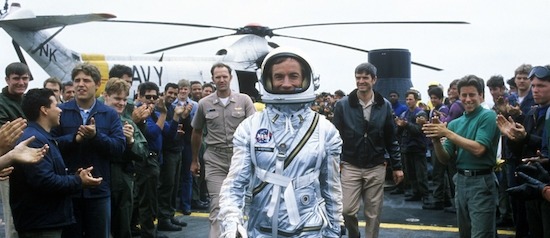 CANCELED SCREENING
The Right Stuff
Please note: This screening has been canceled due to unforseen circumstances. We apologize for the inconvenience. In its place, an encore screening of Claire Denis's Beau Travail will be shown.
Dir. Philip Kaufman. 1983, 193 mins. 35mm. With Dennis Quaid, Ed Harris, Fred Ward, Scott Glenn, Barbara Hershey, Sam Shepard. Kaufman's mammoth adaptation of Tom Wolfe's bestseller about the selection and lift-off of NASA's first astronauts, known as the Mercury Seven, is a singular Hollywood epic. Part satire of American gung-ho machismo, part reverent dramatization of the mission that would change the world,
The Right Stuff
effortlessly mixes broad comedy and stirring drama. Nominated for eight Academy Awards (including Best Picture) and winner of four,
The Right Stuff
helped launch the careers of Harris, Ward, and Glenn, but the real standout is Shepard, playing sound-barrier breaker and proto-astronaut Chuck Yeager as a stoic cowboy, as comfortable on horseback as he is in the cockpit, doggedly pursuing neither glory nor celebrity but quiet, elusive transcendence.
Tickets: $15 / $11 seniors & students / $9 youth (ages 3–17) / $7 MoMI members. After your purchase, an electronic ticket will be sent via email. All seating is general admission. Please review safety protocols before your visit.