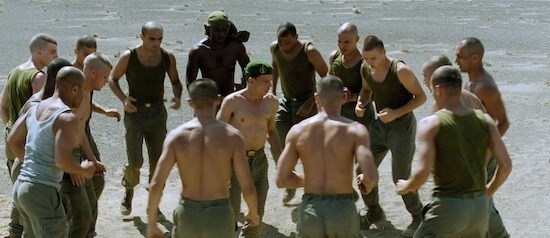 SCREENING
Beau Travail
Please note: The previously scheduled screening of The Right Stuff in this time slot has been canceled due to unforeseen circumstances.
Dir. Claire Denis. 1999, 93 mins. DCP. With Denis Lavant, Michel Subor, Grégoire Colin. Denis transplants Herman Melville's Billy Budd to the French Foreign Legion in Djibouti in the film that brought her cinema to new heights of visual poetry. She creates an insular, homoerotic world in which a drama plays out between a master sergeant (Lavant, of Holy Motors) and a handsome new recruit (Colin), whose immaculateness he finds both attractive and alarming. Nearly every shot is a stunner in this sensual experience, which many consider Denis's very best film.
Tickets: $15 / $11 seniors & students / $9 youth (ages 3–17) / $7 MoMI members. Tickets will be available at the door. All seating is general admission. Please review safety protocols before your visit.