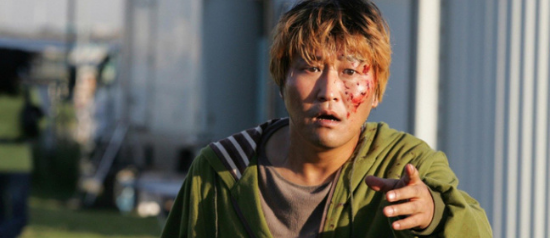 DRIVE-IN DOUBLE FEATURE
The Host + Snow + The Ball Method
Oscar-winning Korean master Bong Joon-ho's breakthrough monster movie, introduced by specialist in zoonotic transfer of disease.
This screening is made possible with the generous support of the Alfred P. Sloan Foundation.
With an introduction by Dr. Kendra Phelps—a field scientist who specializes in the diseases bats can spread and how to minimize risk for spillover events—about how quickly viruses can spread, the zoonotic transmission of disease, and what interventions can help protect populations.

The Host
Dir. Bong Joon-ho. South Korea, 2006, 120 mins. With Song Kang Ho, Bae Doona. The genre-bending, hit monster movie from Oscar-winner Bong Joon-ho (Parasite) was a groundbreaking work for the Korean master and remains one of his most entertaining films. At its center is a family whose youngest member (Go Ah-sung) has been kidnapped by a virus-carrying amphibious creature, formed by toxic waste dumping. Bong was inspired by a real-life incident of formaldehyde dumping in the U.S. for this prescient masterpiece that's action-packed, humorous, cutting, and tragic all at once. Rated: R

Snow
Dir. Isaac Ergas. U.S., 2012, 22 mins. With Chuck McCollum and Rebecca Spicher. Set during the 1854 cholera outbreak in London and inspired by a true story, Snow follows Dr. John Snow, now regarded as the founder of modern epidemiology, who questions the cause of the illness. Snow was produced with support from a grant awarded by USC in partnership with the Alfred P. Sloan Foundation. Not Rated

The Ball Method
Dir. Dagmawi Abebe. U.S., 2020, 19 mins. With Kiersey Clemons. This short film is based on the little-known true story of African-American chemist Alice Ball, who found an effective treatment for leprosy in 1915 when she was 23 years old. The Ball Method was produced with support from a grant awarded by USC in partnership with the Alfred P. Sloan Foundation. Not Rated