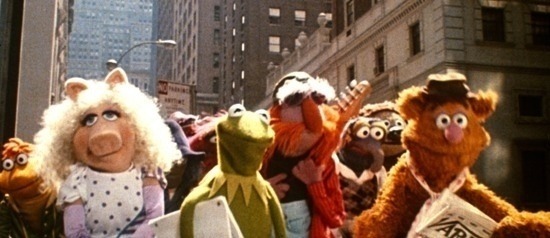 Live Online Event
On Location with the Muppets in NYC, with Dave Goelz and Frank Oz
We are delighted to announce that director Frank Oz will join Dave Goelz for our upcoming conversation about The Muppets Take Manhattan!
A charming ode to the backstage musical, The Muppets Take Manhattan (1984)—Oz's directorial debut—features quintessential New York locations and characters: Central Park, cheerfully rat-infested diners, Mayor Ed Koch, Madison Avenue, Port Authority, Broadway theaters, Liza Minnelli... and, of course, the Muppets! The story follows Kermit and friends as they attempt to "make it" on the great white way, culminating in a Kermit and Miss Piggy wedding…was it for real or just part of the show? Gonzo puppeteer Dave Goelz and Frank Oz discuss the challenges and charms of bringing the Muppets to the streets of New York City.
Watch the film ahead of time, if you have the chance (that DVD or VHS tape is around somewhere, or it is stream-able on various platforms). Who would have imagined the rousing opening musical number "Together Again" would have such a wistful resonance?
RSVPs are no longer being taken for this event. For those who registered, instructions for joining the live event will be sent by email one hour before start time.
While this event is free, we hope you will consider supporting the Museum with a donation. MoMI's staff is working hard to fulfill its mission via remote programming. This comes with opportunities to experiment but also profound challenges. Your support is critical to ensure our work remains vital and visible to a broad public.
Suggested donation: $10. Donate here.