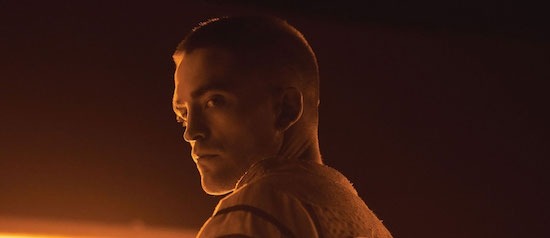 Postponed Event
High Life
The current COVID-19 crisis is a developing situation. As such, tickets for upcoming programs are not on sale and this event may be canceled or rescheduled. Please check back when the Museum reopens.

Introduced by geneticist Christopher Mason
Dir. Claire Denis. 2018, 110 mins. DCP. With Robert Pattinson, Juliette Binoche, André Benjamin, Mia Goth. Visionary French director Claire Denis's English-language debut High Life stars Robert Pattinson as a convicted felon who, together with fellow death-row prisoners fitting into roles like doctor (Juliette Binoche) and gardener (André Benjamin), is cast into the void of outer space on a hopeless government mission. Unfolding in a stream of flashbacks, the film gradually reveals how the ship's crew implode under the mental and physical strain of their circumstances. Imbued with a concentration of time and action rarely achieved in cinema, Denis's film is grounded in the primal and physical: the imprisoning of the body, the regulation of its functions and desires, the formation of relationships of kith and kin between crew members, and the daily routine of living even without hope of escape. Before the screening of High Life, geneticist Christopher Mason from Weill Cornell Medicine will speak about his research into how long-term space travel changes the body.
Christopher Mason is Associate Professor of Physiology and Biophysics at Weill Cornell Medicine. His laboratory develops and deploys new biochemical and computational methods in functional genomics to elucidate the genetic basis of human disease and human physiology. Dr. Mason also works with NASA to help establish the molecular foundations and genetic defenses for enabling long-term human spaceflight. He is a contributor to the 500 Year Plan, a long-term survival plan for Earth's inhabitants. Dr. Mason was a principal investigator on The Twins Study which studied differences between astronomers Scott and Mark Kelly, one of whom lived on Earth while the other lived in space for a year. Dr. Mason was named as one of the "Brilliant Ten" Scientists by Popular Science, has received the NIH's Transformative R01 Award, the NASA Group Achievement Award, the Pershing Square Sohn Cancer Research Alliance Young Investigator award, the WorldQuant Foundation Scholar Award, and many more.
Order tickets ($25) for screening + exhibition access before/after the screening
Order tickets ($15) for screening only
Tickets are discounted for seniors, students, and youth (free or discounted for Museum members). (Members may contact [email protected] with questions regarding online reservations.)
View the Museum's ticketing policy here. Exhibition access takes place during Museum hours.For more information on membership and to join online, visit our membership page.