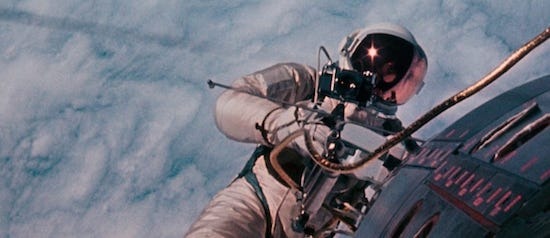 Postponed Event
For All Mankind
The current COVID-19 crisis is a developing situation. As such, tickets for upcoming programs are not on sale and this event may be canceled or rescheduled. Please check back when the Museum reopens.

Dir. Al Reinert. 1989, 80 mins. DCP. Ten years in the making, journalist-turned-filmmaker Al Reinert's classic documentary tells the story of the 24 astronauts who traveled to the moon exclusively through the 16mm images they captured themselves, and accompanied by their own words and voices. Set to an indelible, ambient score by Brian Eno, this memorialization of the achievements of the NASA Apollo program eschews facts and statistics in favor of a poetic pastiche of first-hand impressions and nostalgic reflections presented in pure sound and image.
Order tickets ($25) for screening + Envisioning 2001 exhibition access before the screening
Order tickets ($15) for screening only
Tickets are discounted for seniors, students, and youth (free or discounted for Museum members). (Members may contact [email protected] with questions regarding online reservations.)

View the Museum's ticketing policy here. Exhibition access takes place during Museum hours. For more information on membership and to join online, visit our membership page.