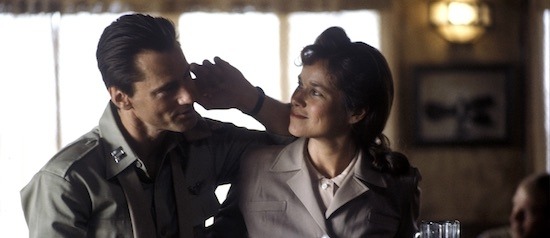 Postponed Event
The Right Stuff
The current COVID-19 crisis is a developing situation. As such, tickets for upcoming programs are not on sale and this event may be canceled or rescheduled. Please check back when the Museum reopens.

Dir. Philip Kaufman. 1983, 193 mins. 35mm. With Dennis Quaid, Ed Harris, Fred Ward, Scott Glenn, Barbara Hershey, Sam Shepard. Kaufman's mammoth adaptation of Tom Wolfe's bestseller about the selection and lift-off of NASA's first astronauts, known as the Mercury Seven, is a singular Hollywood epic. Part satire of American gung-ho machismo, part reverent dramatization of the mission that would change the world,
The Right Stuff
is a dazzlingly mounted production that effortlessly mixes broad comedy and stirring drama. Nominated for eight Academy Awards (including Best Picture) and winner of four,
The Right Stuff
helped launch the careers of Ed Harris, Fred Ward, and Scott Glenn, but the real standout is Sam Shepard's supporting turn as sound-barrier breaker and proto-astronaut Chuck Yeager. Perfectly cast and with big screen charisma to spare, he plays the legendary test pilot as a stoic cowboy, as comfortable on horseback as he is in the cockpit, doggedly pursuing neither glory nor celebrity but quiet, elusive transcendence, pushing the envelope and chasing demons in the sky.
Order tickets ($25) for screening + Envisioning 2001 exhibition access before the screening
Order tickets ($15) for screening only
Tickets are discounted for seniors, students, and youth (free or discounted for Museum members). (Members may contact [email protected] with questions regarding online reservations.)

View the Museum's ticketing policy here. Exhibition access takes place during Museum hours. For more information on membership and to join online, visit our membership page.