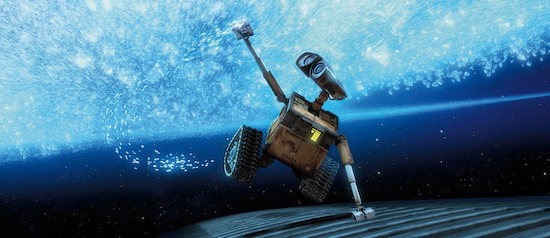 Canceled Event
Wall-E
The current COVID-19 crisis is a developing situation. As such, tickets for upcoming programs are not on sale and this event may be canceled or rescheduled. Please check back when the Museum reopens.

Dir. Andrew Stanton. 2008, 97 mins. DCP. With its wide-set E.T.-like eyes and tiny, motorized R2D2 body, trash compactor Wall-E is one of Pixar's most poignant creations. Left all alone on a patch of a now uninhabitable Earth, the lonely little robot has no friends other than an old VHS of
Hello, Dolly!
Wall-E's routine is disrupted by the appearance of a sleek newer-model robot, the beginning of a mission that will take them both to the spaceship that is the final outpost for a possibly doomed humanity. Vivid animation and superb character effects make for a remarkably textured journey that also functions as a trenchant social satire.
Recommended for ages 5+
Order tickets ($25) for screening + Envisioning 2001 exhibition access before the screening
Order tickets ($15) for screening only
Tickets are discounted for seniors, students, and youth (free or discounted for Museum members). (Members may contact [email protected] with questions regarding online reservations.)

View the Museum's ticketing policy here. Exhibition access takes place during Museum hours. For more information on membership and to join online, visit our membership page.