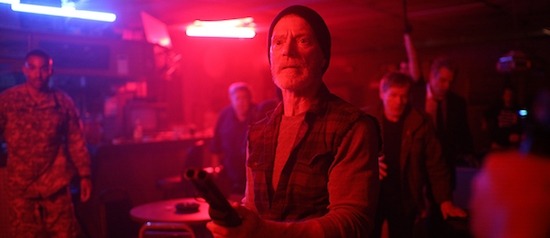 Canceled Event
VFW
The current COVID-19 crisis is a developing situation. As such, tickets for upcoming programs are not on sale and this event may be canceled or rescheduled. Please check back when the Museum reopens.

Dir. Joe Begos. 2020, 91 mins. 35mm. With Stephen Lang, Sierra McCormick, William Sadler, Fred Williamson, Travis Hammer, George Wendt. An ordinary night of whiskey and war stories turns into a warzone when drugged out, punk rock mutants lay siege to the local VFW hall. Now, a group of grizzled veterans must defend themselves and an innocent young woman from the onslaught and slaughter. Joe Begos (Bliss) continues to showcase his talent for untamed and unapologetic cinema with the latest film from Fangoria. Featuring an all-star cast of genre film stalwarts and striking practical effects, VFW is a love letter to early John Carpenter that is imbued with grindhouse grit, saturated in neon, and soaked in blood.
Tickets: $15 ($11 seniors and students / $9 youth (ages 3–17) / free or discounted for Museum members. (Members may contact [email protected] with questions regarding online reservations.)

View the Museum's ticketing policy here. For more information on membership and to join online, visit our membership page.