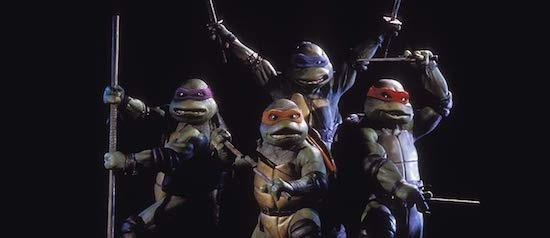 Sensory Friendly Screening
Teenage Mutant Ninja Turtles
Dir. Steve Barron. 1990, 93 mins. 35mm. With Judith Hoag, Elias Koteas, Josh Pais. Donatello, Michelangelo, Leonardo, Raphael, and their reporter friend April challenge The Foot Clan, a crime organization taking over the grungy streets of New York City. Released in 1990, Teenage Mutant Ninja Turtles was the first live-action version of the popular comic-book-turned-animated-TV-series and featured Turtle costumes built by the Jim Henson Creature Shop and real Hong Kong martial artists in fighting scenes. As brought to impressive life by the Creature Shop, there were two types of Turtles: "Stunt Turtles" which allowed the stunt actors to fight while wearing 50 pounds of foam rubber, and "Hero Turtles," which had animatronic heads operated by puppeteers to allow for greater control of expressions. Den of Geek called TNMT "a wonder of practical effects and surprising martial arts action." Balancing some heartfelt moments with a lot of fun (and love of pizza), TMNT delivers on the action with a message about the importance of family. Recommended for ages 7+

Please note, this screening will be Sensory Friendly with the lights left on, but dimmed, and volume lower.

Tickets: $15 ($11 seniors and students / $9 youth (ages 3–17) / free for children under 3 and Museum members at the Film Lover and Kids Premium levels and above). Order online. (Members may contact [email protected] with questions regarding online reservations.)

Ticket purchase includes same-day admission to the Museum (see gallery hours). View the Museum's ticketing policy here. For more information on membership and to join online, visit our membership page.