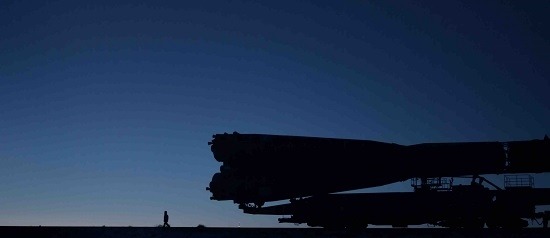 Screening & Live Event
Baikonur, Earth (Bajkonur, Terra)
Part of Panorama Europe 2019
Friday, May 17, 2019, 7:00 p.m.
Museum of the Moving Image - Redstone Theater
With director Andrea Sorini in person for discussion after the film
U.S. premiere

Presented by the Italian Cultural Institute
Italy/Kazakhstan/Russia. Dir. Andrea Sorini, 2018, 74 mins. Digital projection. A film of otherworldly beauty, Andrea Sorini's gently surreal documentary study of the home of the Baikonur Cosmodrome—the world's first space launch facility—achieves the feat of making life on Earth look as alien as any destination in the universe. Built for the launch of Sputnik in the 1950s, the Cosmodrome, located in a desert region of Kazakhstan, is still in use, for sending rockets to the International Space Station. Cows and camels wander through the sparsely populated streets, old churches and statues contrast the stark modernist architecture of the space program, and a karaoke bar is bathed in eerie blue light. Sorini's film is a cinematic marvel, filled with strangely beautiful images and slowly building to a blast-off finale.
Tickets: $15 ($11 seniors and students / $9 youth (ages 3–17) / free for children under 3 and Museum members at the Film Lover and Kids Premium levels and above). Order tickets online.
(Members may contact
[email protected]
with questions regarding online reservations.)
Ticket purchase includes same-day admission to the Museum (see
gallery hours
). View the Museum's ticketing policy
here
. For more information on membership and to join online, visit our
membership page
.