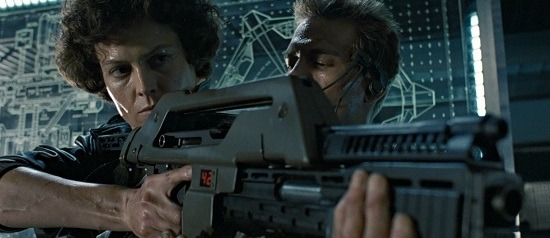 Screening
Aliens
Part of See It Big! Action
Sunday, May 12, 2019, 6:00 p.m.
Museum of the Moving Image - Redstone Theater
Dir. James Cameron. 1986. 154 mins. DCP. With Sigourney Weaver, Carrie Henn, Michael Biehn, Paul Reiser, Lance Henriksen, Bill Paxton. Seven years after Ridley Scott crept into theaters with the ultimate haunted-house-in-space movie, James Cameron, fresh of the success of The Terminator, barreled in with an action-packed sequel that upped every possible ante. Sigourney Weaver—in the rare action-movie role to earn an Oscar nomination—delivers a full-throated wallop as Ripley, the first film's sole survivor, who volunteers to return to the lonely planet known as LV-426, along with a heavily armed U.S. military battalion, to try and save a colony of humans who have unknowingly set up camp alongside hordes of tentacled beasts, face-huggers, and one really mean queen bee. Cameron offers one brilliantly staged set piece after another, leading to the ultimate showdown between two pissed-off mothers.

Tickets: $15 ($11 seniors and students / $9 youth (ages 3–17) / free for children under 3 and Museum members at the Film Lover and Kids Premium levels and above). Order tickets online. (Members may contact [email protected] with questions regarding online reservations.)

Ticket purchase includes same-day admission to the Museum (see gallery hours). View the Museum's ticketing policy here. For more information on membership and to join online, visit our membership page.