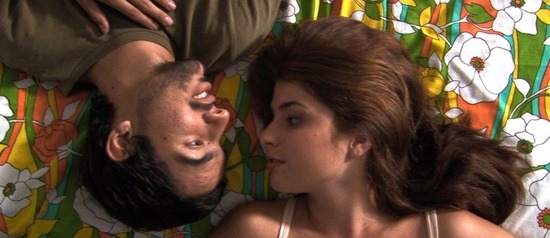 SCREENING
Third World (Tercer mundo)
Dir. Cesar Caro. Bolivia/Chile/Costa Rica. 2009, 85 mins. In Spanish with English subtitles. With Juan Pablo Garuti, Carmen Tito, Luis Miguel Sanchez.
In this film, the imaginaries dominating science fiction—astronauts, alien sightings, and meteorites that threaten the end of the world—are staged in three parallel story lines. The protagonists are a Chilean scientist engaged in a secret NASA mission; an indigenous Bolivian woman whose grandfather transmits knowledge to her about pre-Hispanic cultures with extraterrestrial contacts; and a group of Costa Rican friends, including one who thinks he is an alien and another who is a devoted fan of science fiction and unsuccessfully pursues encounters of the third kind. View trailer
Los imaginarios de la ciencia ficción: astronautas, apariciones alienígenas, eclipses y meteoritos que amenazan con el fin del mundo, se ponen en escena en tres historias paralelas. Los protagonistas son: un científico chileno en una misión secreta de la NASA; una mujer indígena boliviana cuyo abuelo le transmite los saberes de culturas prehispánicas sobre contactos extraterrestres; y un par de amigos costarricenses de los cuales uno se siente marciano y el otro es un fan de la ciencia ficción y persigue fallidamente encuentros de tercer tipo.
Tickets: $15 ($11 seniors and students / $9 youth (ages 3–17) / free for children under 3 and Museum members at the Film Lover and Kids Premium levels and above). Order tickets
online.
(Members may contact
[email protected]
with questions regarding online reservations.)
Ticket purchase includes same-day admission to the Museum (see
gallery hours
). View the Museum's ticketing policy
here
. For more information on membership and to join online, visit our
membership page