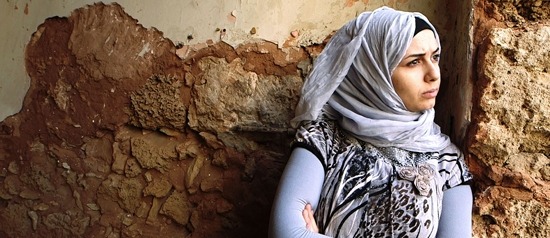 SCREENING & LIVE EVENT
We Are Not Princesses
Sunday, April 14, 2019, 4:00 p.m.
Museum of the Moving Image - Bartos Screening Room
With editor/producer Sara Maamouri in person.* Screening followed by panel discussion.

Dirs. Bridgette Auger, Itab Azzam. 2018, 75 mins. DCP. In Arabic with English subtitles. In this intimate and enlightening documentary, a group of Syrian women living as refugees come together in Beirut to perform the ancient Greek play Antigone. Thanks to a project organized by the Open Art Foundation in 2014, the women were invited to participate in a theater workshop, which created a space for community and provided tools to help them process their trauma as a result of the ongoing conflict in Syria. Whether they are gossiping at a seaside café or engaging in long-forgotten pleasures at a night-time fairground, these poignant scenes are where intense discussion and transformation take place. This film focuses on the strong, resilient, and often hilarious Syrian women who are moving forward in spite of the ever-worsening situation back home. View trailer

Following the screening, producer and editor Sara Maamouri will participate in a panel discussion with Dale Buscher, Senior Director of Programs at the Women's Refugee Commission, and others to be announced. (Please note: Co-director Itab Azzam was not able to attend due to unforeseen circumstances.)

Tickets: $15 ($11 seniors and students / $9 youth ages 3–17 / Free for Museum members at the Film Lover and MoMI Kids Premium levels and above). Order tickets online. (Members may contact [email protected] with questions regarding online reservations.)

Ticket purchase includes same-day admission to the Museum (see gallery hours). View the Museum's ticketing policy here. For more information on membership and to join online, visit our membership page.

Itab Azzam is a London-based Syrian filmmaker. She recently won a BAFTA for her work producing the BBC Two series Exodus: Our Journey to Europe, also a winner of a British Broadcast award and a Liberty Human Rights award. She has extensive television experience including the BBC's Syrian School; the series East West; and Bizarre Foods: Syria for the Travel Channel. She produced the award-nominated theater piece Antigone of Syria. She co-founded Sabbara, a social enterprise empowering women through economic employment and psychological support, and also co-founded the Open Art Foundation, an arts charity that works with marginalized communities around the world.