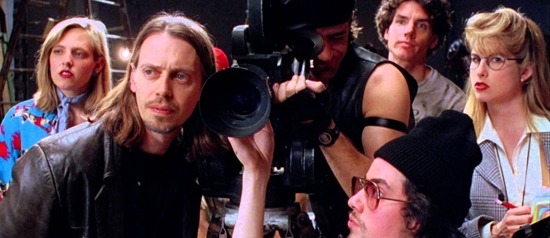 Screening
Living in Oblivion
Dir. Tom DiCillo. 1995, 90 mins. 35mm. With Steve Buscemi, Catherine Keener, Peter Dinklage, Dermot Mulroney. Steve Buscemi directs the film-within-a-film in this ingenious movie about a day in the production of a no-budget movie. Inspired by the process of making his debut film, Johnny Suede, and frustrated by delays on his second feature, Tom DiCillo wrote this making-of comedy where everything goes wrong; smoke machines break, actors sleep with each other and give advice to the director, and dream sequences lead to real anxiety dreams.
Tickets: $15 ($11 seniors and students / $9 youth (ages 3–17) / free for children under 3 and Museum members at the Film Lover and Kids Premium levels and above). Order tickets online. (Members may contact [email protected] with questions regarding online reservations.)

Ticket purchase includes same-day admission to the Museum (see gallery hours). View the Museum's ticketing policy here. For more information on membership and to join online, visit our membership page.