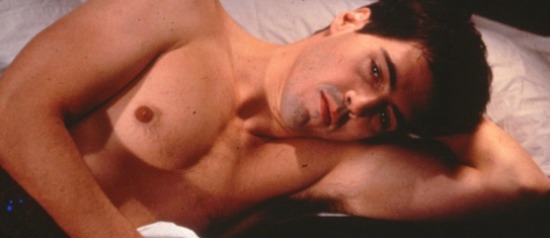 Screening & Live Event
Postcards from America
Introduced by producer Craig Paull and production manager John Bruce

Dir. Steve McLean. 1994, 92 mins. Digital projection. With James Lyons, Michael Tighe, Olmo Tighe, Michael Imperioli. Written by Steve McLean based on the writings of David Wojnarowicz. Based on the writings of artist David Wojnarowicz, who died of AIDS two years before the film was made, Postcards from America is a poetic depiction of the artist's life, from his stern and abusive upbringing, to his years hustling on the West Village piers. Time Out said the film's "feel for the American landscape is pitched between Kerouac and Gus Van Sant."

Preceded by Dottie Gets Spanked (Dir. Todd Haynes. 1993, 30 mins. Digital projection.) After Poison, Todd Haynes directed this short film inspired by his own childhood fixation on I Love Lucy, about Steven, a young boy obsessed with a sitcom. The film bounces between color-coordinated suburbia and the black-and-white of television screens. Steven is stuck in between, his fantasy world a shadowy, cartoonish dreamland. Isolated at school but finding solace in making Dottie-inspired drawings, Steven's obsession is encouraged by his mother and tolerated by his father, until his drawings reveal too much.
Tickets: $15 ($11 seniors and students / $9 youth (ages 3–17) / free for children under 3 and Museum members at the Film Lover and Kids Premium levels and above). Order tickets online. (Members may contact [email protected] with questions regarding online reservations.)

Ticket purchase includes same-day admission to the Museum (see gallery hours). View the Museum's ticketing policy here. For more information on membership and to join online, visit our membership page.