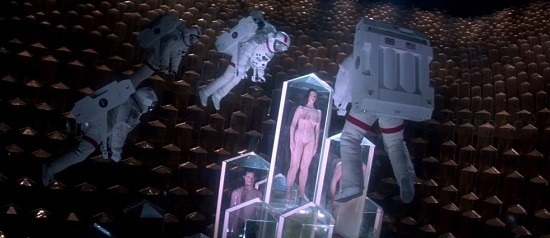 Screening
Lifeforce
Part of See It Big! 70mm
Friday, August 17, 2018, 7:00 p.m.
Museum of the Moving Image - Redstone Theater
Dir. Tobe Hooper. 1985. 116 mins. 70mm. With Steve Railsback, Mathilda May, Peter Firth, Frank Finlay, Patrick Stewart. Nude space vampires arrive in London and infect the populace in this florid science fiction/horror mashup directed by Tobe Hooper (Texas Chainsaw Massacre, Poltergeist) and adapted by Alien writers Dan O'Bannon and Don Jakoby. After a trio of humanoids is discovered in the hold of an abandoned space shuttle, they are brought to London's Space Research Center for examination. But, led by the beautiful female alien who desiccates every researcher in her path, they escape and wreak havoc while the sole survivor of the shuttle mission tries to save the city. Acclaimed for its special effects, Lifeforce struggled commercially upon release but has since attained cult status.

Tickets: $15 ($5 Museum members at Standard through MoMI Kids Premium levels / free for Silver Screen members and above). Order tickets online. (Members may contact [email protected] with any questions regarding online reservations.)

Ticket purchase includes Museum admission (Please note: Galleries close at 6:00 p.m. on Saturday and Sunday. See gallery hours). View the Museum's ticketing policy here. For more information on membership and to join online, visit our membership page.