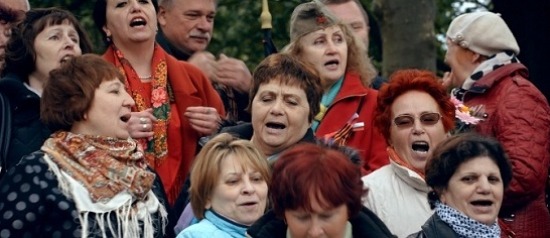 Screening
Victory Day (with Victory Day)
Dir. Sergei Loznitsa. 2018, 94 mins. DCP. In English, Russian, and German with English subtitles. Initial evidence to the contrary, the ceremonies recorded in this latest documentary by Sergei Loznitsa do not take place in Russia, but in Berlin's Treptower Park, where crowds gather annually to commemorate the Red Army's defeat of Nazi Germany in the Great Patriotic War, a.k.a. WWII. The strange tension of celebrating victory over a country within that country is only enhanced by Loznitsa's coolly demonstrative camera, which keeps locating within the crowd subsets of people in subtle combat with one another: anti-democratic Germans, Russian fascists, pro-Russian Ukrainians, anti-Russian Ukrainians, post-Soviet pilgrims, tourists. Nary a veteran is sighted—though Loznitsa makes certain to dwell on the monument's appropriately somber friezes depicting the war and its atrocities—leaving the meaning of it all in the hands of people with their own agendas to pursue.

Preceded by Victory Day (Alina Rudnitskaya. 2014, 30 mins.) Using the patriotic military celebrations of May 9 as an ongoing and disquieting motif, St. Petersburg–based documentary filmmaker Rudnitskaya introduces several ordinary gay and lesbian couples whose legal rights are increasingly invalidated, and whose very lives are in constant danger in a cultural and political climate that's turned blatantly, unapologetically homophobic.

Tickets: $15 ($11 seniors and students / $9 youth (ages 3–17) / free for children under 3 and Museum members at the Film Lover and Kids Premium levels and above). Order tickets online. (Members may contact [email protected] with questions regarding online reservations.)

Ticket purchase includes same-day admission to the Museum (see gallery hours). View the Museum's ticketing policy here. For more information on membership and to join online, visit our membership page.