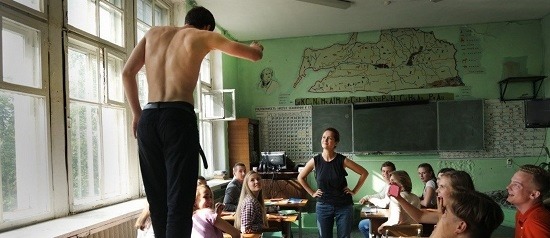 Screening & Live Event
The Student
Introduced by Victoria Smolkin, assistant professor of history at Wesleyan University

Dir. Kirill Serebrennikov. 2016, 118 mins. DCP. In Russian with English subtitles. With Pyotr Skvortsov, Viktoriya Isakova, Yuliya Aug, Aleksandr Gorchilin, Aleksandra Revenko, Anton Vasilev, Svetlana Bragarnik. After Venya's mother receives a call from school reporting her son is refusal to participate in mixed swimming lessons, she chalks it up to shyness and derides his claim that being exposed to girls in bikinis is against his religion. But when Venya not only receives exemption by the school's principal, but succeeds in having the dress code changed, he dives deeper into fundamentalist interpretations of the Bible and grows confident in his own power to manipulate authority and vanquish any opposition, including a female teacher who suddenly seems like the last defence against dogmatism. Director Serebrennikov, currently living under house arrest on questionable fraud charges, presents a cinematically engrossing, harrowingly tangible allegory of how easily society can be dismantled by extremism.
Victoria Smolkin is assistant professor of history at Wesleyan University, and author of the book A Sacred Space Is Never Empty: A History of Soviet Atheism.

Tickets: $15 ($11 seniors and students / $9 youth (ages 3–17) / free for children under 3 and Museum members at the Film Lover and Kids Premium levels and above). Order tickets online. (Members may contact [email protected] with questions regarding online reservations.)

Ticket purchase includes same-day admission to the Museum (see gallery hours). View the Museum's ticketing policy here. For more information on membership and to join online, visit our membership page.