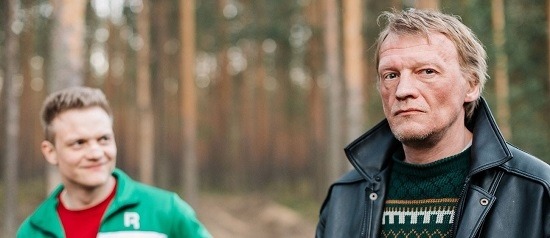 Screening & Live Event
How Viktor "the Garlic" Took Alexey "the Stud" to the Nursing Home
New York Premiere, introduced by film critic Godfrey Cheshire
Dir. Alexander Hant. 2017, 90 mins. DCP. In Russian with English subtitles. With Yevgeny Tkachuk, Alexey Serebryakov, Andrey Smirnov, Alina Nasibullina, Olga Oblasova. Swaggering nogoodnik Viktor (nickname: "The Garlic") uses trucker nuts against unsuspecting opponents in bar fights and cowers from the live-in mother of his long-suffering baby mama. He appears to catch a break when he stands to inherit a choice new apartment, the only obstacle being Alexey (nickname: "The Stud"), the not-yet-dead father who abandoned him long ago, now noncommunicative and taking up the place for himself. But as Viktor takes to Russia's expansive highway system to deposit his dad in an out-of-the-way nursing home, it appears the old man may have some fight left in him yet. Looking less to Eisenstein and Tarkovsky than to Tarantino and Edgar Wright, Alexander Hant's stylish road movie captures a side of the country rarely seen on film and marks the debut of an original new voice in Russian cinema.

Tickets: $15 ($11 seniors and students / $9 youth (ages 3–17) / free for children under 3 and Museum members at the Film Lover and Kids Premium levels and above). Order tickets online. (Members may contact [email protected] with questions regarding online reservations.)

Ticket purchase includes same-day admission to the Museum (see gallery hours). View the Museum's ticketing policy here. For more information on membership and to join online, visit our membership page.