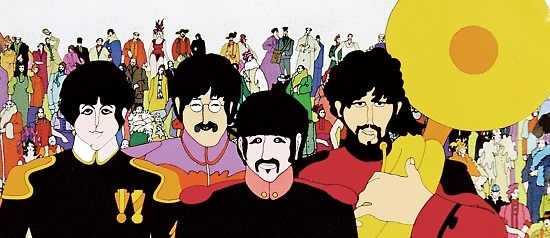 CANCELLED SCREENING
Yellow Submarine
Part of Summer Kids Matinees
Thursday, July 12, 2018, 11:00 a.m.
Museum of the Moving Image - Redstone Theater
Dir. George Dunning. 1968, 85 mins. DCP. Featuring Paul McCartney, John Lennon, George Harrison, Ringo Starr. The Beatles's Yellow Submarine turns 50 this year! Don't miss this rare opportunity to see the landmark animated family film on the big screen in a new digital restoration with stereo surround sound. In this fun fantasy adventure, John, Paul, George, and Ringo try to save Pepperland from the Blue Meanies, who hate music. Combining colorful Pop Art–inspired hand-drawn animation with Beatles songs, including "Eleanor Rigby," "When I'm Sixty-Four," "Lucy in the Sky with Diamonds," "All You Need Is Love," and "It's All Too Much," the film is a full sensory experience brimming with peace, love, and hope. Recommended for ages 6+
This screening has been cancelled. Please consider attending one of the screenings on July 13, 14, or 15.