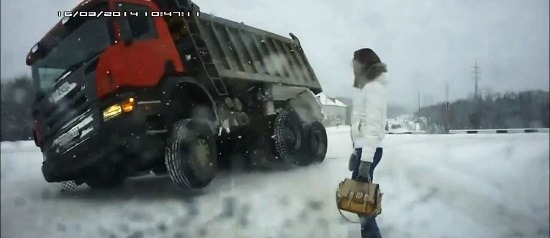 Screening
The Road Movie
Dir. Dmitrii Kalashnikov. 2016, 67 mins. Digital projection. An audacious found footage document for the internet age, The Road Movie compiles material shot exclusively via the deluge of dashboard cameras that populate Russian roads. Amongst a mess of icy collisions in whiteout conditions and fiery wrecks, the windshield becomes a proscenium for everything from a comet crashing down to Earth, an epic forest fire, and angry motorists taking road rage to extreme new levels, all accompanied by consistently blasé commentary from our unseen drivers and passengers.

Tickets: $15 ($11 seniors and students / $9 youth (ages 3–17) / free for children under 3 and Museum members at the Film Lover and Kids Premium levels and above). Order tickets online. (Members may contact [email protected] with questions regarding online reservations.)

Ticket purchase includes same-day admission to the Museum (see gallery hours). View the Museum's ticketing policy here. For more information on membership and to join online, visit our membership page.