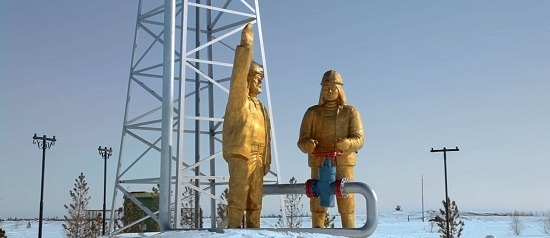 Screening
Pipeline
Dir. Vitaly Mansky. 2013, 116 mins. Digital projection. The Russian economy rises and falls in accordance with its natural resources, and the 21st century has been a boom time for oil exportation and political maneuvering thanks to Europe's dependence on the Russian supply. Carrying oil from far eastern edge of Russia to the Western coast of Europe is a pipeline that cuts through two continents' worth of villages, cultures, languages,and climates, many of which master documentary insurgent Vitaly Mansky visits along the way, revealing lives unenriched by the resources extracted from and passing through their land.

Tickets: $15 ($11 seniors and students / $9 youth (ages 3–17) / free for children under 3 and Museum members at the Film Lover and Kids Premium levels and above). Order tickets online. (Members may contact [email protected] with questions regarding online reservations.)

Ticket purchase includes same-day admission to the Museum (see gallery hours). View the Museum's ticketing policy here. For more information on membership and to join online, visit our membership page.