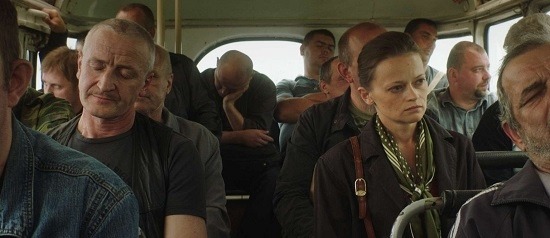 Screening
A Gentle Creature
Dir. Sergei Loznitsa. 2017, 143 mins. DCP. In Russian with English subtitles. With Vasilina Makovtseva, Liya Akhedzhakova, Valeriu Andriutã, Boris Kamorzin, Roza Khayrullina, Sergey Kolesov. A woman visits a prison town in hopes of delivering a package to her husband, only to be preyed upon by everyone from human traffickers to the police. She remains stoically committed until reality itself begins to rupture, casting forth visions, and deceptions, centuries in the making. Inspired by a Dostoevsky story, and akin to Loznitsa's own dark-hearted epic My Joy, with which it shares a grimly ironic title, the staggeringly accomplished A Gentle Creature journeys deep into a societal abyss and never turns back.

Tickets: $15 ($11 seniors and students / $9 youth (ages 3–17) / free for children under 3 and Museum members at the Film Lover and Kids Premium levels and above). Order tickets online. (Members may contact [email protected] with questions regarding online reservations.)

Ticket purchase includes same-day admission to the Museum (see gallery hours). View the Museum's ticketing policy here. For more information on membership and to join online, visit our membership page.