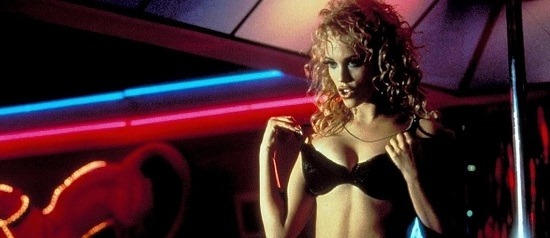 Screening & Live Event
Showgirls
Introduced by Adam Nayman

Preceded by a book signing in the Moving Image Store at 5:00 p.m.

Dir. Paul Verhoeven. 1995, 128 mins. 35mm. With Elizabeth Berkley, Kyle MacLachlan, Gina Gershon. Nomi at MoMI! "Leave your inhibitions at the door" panted the ads for Verhoeven's NC-17 rated cause célèbre. Primed to pan pretty much anything the director did in the wake of Basic Instinct, most critics opted to leave their senses of humor behind. A deluxe nudity-filled update of the classic Hollywood musical, Showgirls features a sturdy veteran-versus-ingenue plotline (Verhoeven dubbed it "All About Evil"). Showgirls is not only better than its reputation (but then it would have to be) and more durable than its critics (some of whom have recanted): it stands, nearly twenty years on, as the last (dirty) word in the cinema du sleaze.

Tickets: $15 ($11 seniors and students / $9 youth (ages 3–17) / free for children under 3 and Museum members at the Film Lover and Kids Premium levels and above). Order tickets online. (Members may contact [email protected] with questions regarding online reservations.)

Ticket purchase includes same-day admission to the Museum (see gallery hours). View the Museum's ticketing policy here. For more information on membership and to join online, visit our membership page.