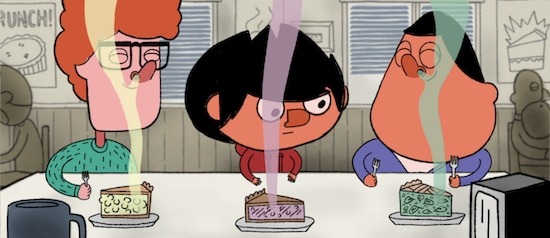 Family Program
Science and Film Shorts for Kids
Join us for a program of kid-friendly short films from Museum's Sloan Science & Film collection, all supported by the Alfred P. Sloan Foundation's nationwide film program. Each film integrates scientific or technological themes using animation or live action. Recommended for ages 6 and up.

List of shorts:

Nose Hair
Directed and animated by Louis Morton. 2016, 10 mins. Explore the least understood of the senses—smell—with ten-year-old Nate, who learns while playing fart bombs with his friends that he does not experience the world in the same way.

Concrete
Written and directed by Andy Watts. 2000, 15 mins. A botanist living in New York decides to make a garden behind his apartment building.

The Collector's Gift
Written, animated, produced, and directed by Ryan Kravetz. 2011, 8 mins. A young girl pieces together the story of a man who once tried to gather all of the elements of the periodic table.

Paprika
Directed and animated by Katalin Nivelt Anguelov. 2004, 7 mins. Paprika celebrates the Hungarian scientist Albert Szent-Györgyi who received the 1937 Nobel Prize for his work on the isolation of Vitamin C.

Sloan Science & Film (scienceandfilm.org) is a website edited by Sonia Epstein that covers all things science and film, and publishes resources including a Teacher's Guide for short films to engage students in STEM learning.

Tickets: $15 ($11 seniors and students / $9 youth (ages 3–17) / free for children under 3 and Museum members at the Film Lover and Kids Premium levels and above). Order tickets online. (Members may contact [email protected] with questions regarding online reservations.)

Ticket purchase includes same-day admission to the Museum (see gallery hours). View the Museum's ticketing policy here. For more information on membership and to join online, visit our membership page.