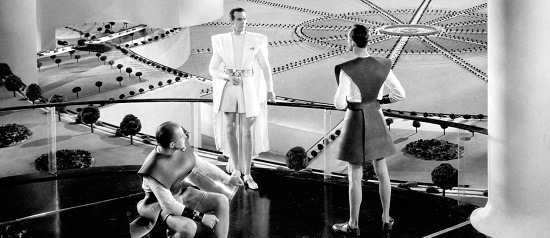 Screening
Things to Come
Dir. William Cameron Menzies. 1936, 97 mins. Imported 35mm print from the British Film Institute. With Raymond Massey, Edward Chapman, Ralph Richardson. Although the streamline moderne style, which has come to define Things to Come in popular imagination, appears only in its final part set in 2036, it makes a profound visual impact. The "age of mechanical perfection" (in H.G. Wells's words) is overwhelmingly white in both architecture and clothing, cutting a serene image of a world cleansed of manual labor, disease and suffering. Wells, on whose 1933 book the film was based, prophesied that clothing of the enlightened future would be "austerely beautiful," machine-made to measure, and utterly disposable. He nevertheless elaborated more on the social and cultural conditions at the root of the new fashions than questions of style per se,allowing the film's costume designers to do their own bit of magic. As the film travels forward through a hundred years, the costumes perfectly register social and political progress, as well as regression. The final look is an intriguing fusion of angular modernism, elements of heroic warrior wear, and classical garb, as seen in the 1930s couture.

Tickets: $15 ($11 seniors and students / $9 youth (ages 3–17) / free for children under 3 and Museum members at the Film Lover and Kids Premium levels and above). Order tickets online. (Members may contact [email protected] with questions regarding online reservations.)

Ticket purchase includes same-day admission to the Museum (see gallery hours). View the Museum's ticketing policy here. For more information on membership and to join online, visit our membership page.