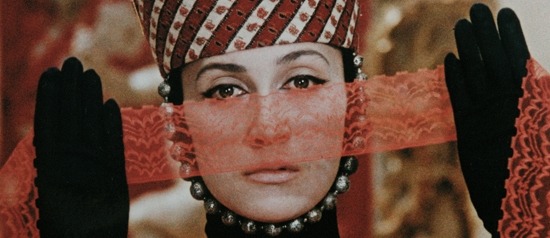 Screening
The Color of Pomegranates (Sayat Nova)
Dir. Sergei Paradjanov. 1969, 79 mins. DCP of a new restoration sponsored by the World Cinema Foundation. With Sofiko Chiaureli, Melkon Alekyan, Vilen Galstyan. In Armenian, Azerbaijani, and Georgian with English subtitles. One of the most daringly experimental films ever made (and produced in pre-Glasnost Russia, where it was quickly banned), Paradjanov's tribute to the Armenian poet Sayat Nova rethinks the nature of cinematic space. Woven patterns and colors of traditional textiles and customs provide him with a different visual model. The way in which clothing sculpts and defines the body, creating a space neither flat nor deep but attuned to both the senses of touch and vision, inspires the discontinuous tableaux that make up this film. "Watching The Color of Pomegranates," said Martin Scorsese, "is like opening a door and walking into another dimension, where time has stopped and beauty has been unleashed."

Tickets: $15 ($11 seniors and students / $9 youth (ages 3–17) / free for children under 3 and Museum members at the Film Lover and Kids Premium levels and above). Order tickets online. (Members may contact [email protected] with questions regarding online reservations.)

Ticket purchase includes same-day admission to the Museum (see gallery hours). View the Museum's ticketing policy here. For more information on membership and to join online, visit our membership page.