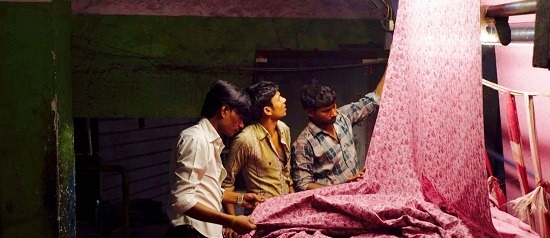 Screening & Live Event
Machines
Followed by panel discussion with Jessamyn Hatcher, Francesca Granata and Ashish Pant

Presented in collaboration with the India Center

Dir. Rahul Jain. 2017, 71 mins. Digital projection. In Hindi and English with English subtitles. Marrying stunning visuals with social advocacy, Rahul Jain's debut documentary takes audiences into the labyrinthine passages of an enormous textile factory in Gujarat, India. Jain's camera wanders freely between pulsating machines and bubbling vats of dye to create a moving portrait of the human laborers who toil away there for twelve hours a day creating fabric that will be used to create glamorous clothing. This political message is delivered amidst the unsettling beauty of the factory's mechanical underworld and the colorful, billowing fabrics it produces.
About the speakers:
Jessamyn Hatcher is Clinical Professor in Global Liberal Studies at New York University. Her writing has appeared in The New Yorker and newyorker.com, and Women's Studies Quarterly. Her article "'Little Freedoms': Immigrant Labor and the Politics of Fast Fashion After Rana Plaza" is forthcoming in Fashion and Beauty in the Time of Asia, eds. Sharon Heijin Lee, Christina Moon, and Thuy Linh Tu (NYU Press).

Francesca Granata is Director of the MA Fashion Studies and Assistant Professor in the School of Art and Design History and Theory at Parsons School of Design. Her research centers on twentieth century and contemporary visual and material culture with a particular focus on fashion, gender and performance studies.

Ashish Pant is an accomplished Indian filmmaker whose works include the experimental feature Byron Jones. He teaches world cinema at the Tom Todoroff Acting Conservatory in New York.

Tickets: $15 ($11 seniors and students / $9 youth (ages 3–17) / free for children under 3 and Museum members at the Film Lover and Kids Premium levels and above). Order tickets online. (Members may contact [email protected] with questions regarding online reservations.)

Ticket purchase includes same-day admission to the Museum (see gallery hours). View the Museum's ticketing policy here. For more information on membership and to join online, visit our membership page.