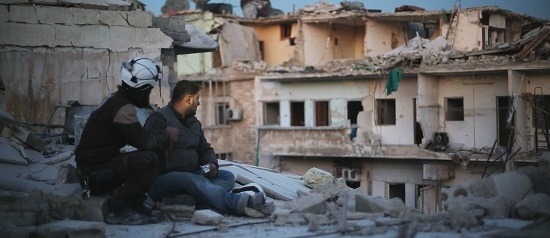 Screening
Last Men in Aleppo
2018 Academy Award Nominee - Best Documentary Feature

Dir. Firas Fayyad. 2017, 104 mins. In Arabic with English subtitles. Syrian filmmaker Feras Fayyad's award-winning documentary follows the efforts of the internationally recognized White Helmets, an organization consisting of ordinary citizens who are the first to rush towards military strikes and attacks in the hope of saving lives. Incorporating moments of both heart-pounding suspense and improbable beauty, the film draws us into the lives of three of its founders—Khaled, Subhi, and Mahmoud—as they grapple with the chaos around them and struggle with an ever-present dilemma: do they flee or stay and fight for their country? Fayyad's film is both a searing example of boots-on-the-ground reportage and a portrait of humanity at its most defiant and heroic. "A masterpiece." —Nick Fraser, The Guardian

Tickets: $15 ($11 seniors and students / $7 youth (ages 3–17) / free for children under 3 and Museum members at the Film Lover and Kids Premium levels and above). Order tickets online. (Members may contact [email protected] with questions regarding online reservations.)

Ticket purchase includes same-day admission to the Museum (see gallery hours). View the Museum's ticketing policy here. For more information on membership and to join online, visit our membership page.