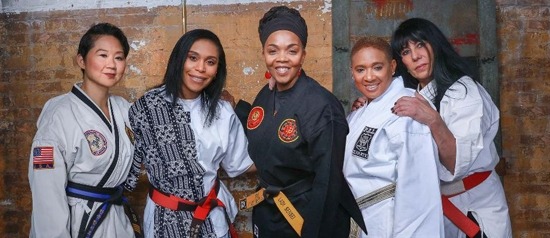 Live Event
Women in the Martial Arts: Our Images on Screen and Lives off Screen
Part of Fist and Sword (2018)
Friday, March 2, 2018, 7:00 p.m.-9:30 p.m.
Museum of the Moving Image - Digital Learning Suite
Presented in partnership with the Women's Martial Arts Network
This month's Fist and Sword program celebrates Women's History Month with an interactive panel discussion featuring multicultural female master practitioners on the challenges and benefits of the martial arts for women. The discussion will include video clips and critiques of the cinematic representations of women in film and television, and the real-life issues raised by the #MeToo and #TimesUp protests.
The program opens with welcoming remarks by Warrington Hudlin, Vice Chairman of the Museum of the Moving Image and curator of the Fist and Sword martial arts film series. A reception with live music by a jazz quartet follows the discussion.
Featured panelists:
Kyoshi Rebeca Pagan-Ariza (Karate and Jiu Jitsu)
Renshi Debbie Barr (Karate)
Chungsanim Betty Sze (Hapkido)
and other special guests TBA

Co-Moderators:
Sensei Gerry Chisom a.k.a. Lady Sensei NY (Ninjitsu) and Professor Dominick Brioche (Hapkido and Jiu Jitsu).
This program a collaboration between the Women's Martial Arts Network and the Fist and Sword film series at MoMI. The mission of the Women's Martial Arts Network is to advance women in the martial arts in the 21st century by creating and supporting platforms designed to educate, elevate, and empower.

Tickets: $15 ($7 Students, Seniors, Youth, and Museum members / free for Silver Screen members and above). Order tickets online. (Members may contact [email protected] with questions regarding online reservations.)

Ticket purchase includes same-day admission to the Museum (see gallery hours). View the Museum's ticketing policy here. For more information on membership and to join online, visit our membership page.