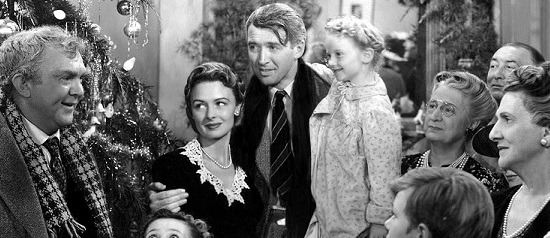 Screening
It's a Wonderful Life
Dir. Frank Capra. 1946, 130 mins. 35mm. With James Stewart, Donna Reed, Lionel Barrymore. One of the most moving films ever to come out of Hollywood, Capra's holiday perennial never ceases to surprise with the depths of its humanity and the force of its supernatural allegory. James Stewart sends the viewer on an emotional roller coaster as George Bailey, who dreams of getting out of American everytown Bedford Falls, only to find himself constantly drawn back in an epic struggle with capitalist fatcat Mr. Potter (Lionel Barrymore). It's a Wonderful Life is exquisitely crafted, funny, wrenching, and in the end cathartic like no other movie.

Tickets: $12 (Free for members at the Film Lover and MoMI Kids Premium levels and above). Order tickets online. (Members may contact [email protected] with any questions regarding online reservations.)

Ticket purchase may be applied toward same-day admission to the Museum (see gallery hours). View the Museum's ticketing policy here. For more information on membership and to join online, visit our membership page.