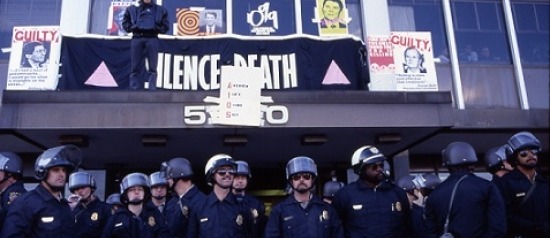 SCREENING & BOOK SIGNING
How to Survive a Plague
With David France in person

Dir. David France. 2012, 110 mins. 35mm. Largely comprised of never-before-seen archival footage, David France's urgent work of living history follows the paths of two coalitions—ACT UP and TAG (Treatment Action Group)—whose activism and innovation turned AIDS from a death sentence into a manageable condition. Despite having no scientific training, these self-made activists infiltrated the pharmaceutical industry and helped identify promising new drugs, moving them from experimental trials to patients in record time. France transports the viewer back to the dramatic protests, heartbreaking setbacks, and exultant breakthroughs of citizens fighting for change, recognition, and their lives. Nominated for three Cinema Eye Honors awards. This screening will be preceded by a book signing of David France's How to Survive a Plague: The Inside Story of How Citizens and Science Tamed AIDS.

Tickets: $12 (Free for members at the Film Lover and MoMI Kids Premium levels and above). Order tickets online. (Members may contact [email protected] with any questions regarding online reservations.)

Ticket purchase may be applied toward same-day admission to the Museum (see gallery hours). View the Museum's ticketing policy here. For more information on membership and to join online, visit our membership page.