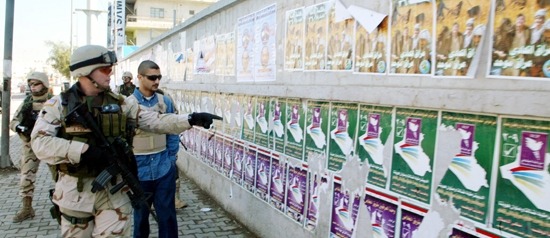 Screening
My Country, My Country
Dir. Laura Poitras. 2006, 90 mins. 35mm. It is 2004 in Baghdad, Iraq. Saddam Hussein has been toppled, America is in charge, and elections have been set for January 2005. Dr. Riyadh is a physician, father of six, and Sunni political candidate. An outspoken critic of the U.S. occupation, he is equally passionate about the need to establish democracy in Iraq, arguing that Sunni participation in the elections is essential. Yet all around him, Dr. Riyadh sees only chaos, as his waiting room fills each day with patients suffering the physical and mental effects of ever-increasing violence. Dramatically interwoven into the personal journey of Dr. Riyadh is the landscape of the U.S. military occupation, private security contractors, American journalists, and the United Nations officials who orchestrate the elections. It was during this Academy Award nominated film's 8-month shoot that director Laura Poitras first drew the ultimately unwarranted suspicions of the American government, an ordeal that factored into her Oscar-winning film Citizenfour.

Please note: Due to unforeseen circumstances, Laura Poitras will no longer be in attendance for My Country, My Country, but will be in attendance for The Oath and Citizenfour.

Tickets: $12 (Free for members at the Film Lover and MoMI Kids Premium levels and above). Order tickets online. (Members may contact [email protected] with any questions regarding online reservations.)

Ticket purchase may be applied toward same-day admission to the Museum (see gallery hours). View the Museum's ticketing policy here. For more information on membership and to join online, visit our membership page.