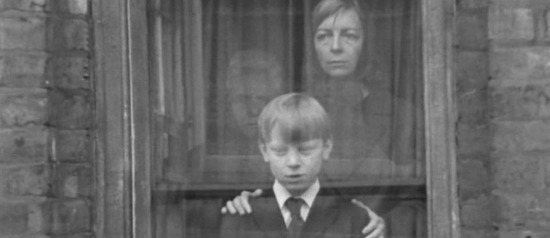 Screening
The Terence Davies Trilogy
Dir. Terence Davies. 1983, 101 mins. Digital projection. With Robin Hooper, Valerie Lilley, Terry O'Sullivan, Sheila Raynor, Wilfrid Brambell. Comprised of three films (Children, Madonna and Child, and Death and Transfiguration) made over seven years (in drama school, film school, and after graduation), this trilogy marks Davies's emergence as one of the great British directors of his generation. The films chart the life and death of Robert Tucker, brought up, like Davies, in a Catholic working-class home in Liverpool. Robert is bullied at school and has a violent father who dies while the boy is still young. He is left to live alone with his mother. As an adult, he struggles with his homosexuality, and his feelings of guilt and shame are sharpened by his Catholicism. Davies already shows precision in his handling of sounds and images and in bringing an extraordinary intensity of emotion to the screen.

Please note: Due to unforeseen circumstances, the format of this screening has changed from 35mm to digital projection. The Terence Davies Trilogy will screen again in 35mm on May 15 and 21, 2016.

Free admission. Tickets will be given out on the day of the screening on a first-come, first-served basis. Members (at the Film Lover and MoMI Kids Premium levels and above) may reserve tickets by emailing [email protected].

Ticket purchase may be applied toward same-day admission to the Museum (see gallery hours). View the Museum's ticketing policy here. For more information on membership and to join online, visit our membership page.